Annette, aka the
Fairy Blog Mother
, has given me a Sisterhood Award! How sweet. Time to pass it on to some of my favourite blogs.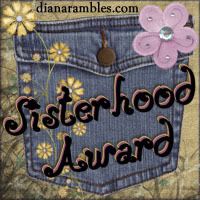 1. Put the logo on your blog or post.
2. Nominate up to 10 blogs which show great attitude and/or gratitude!
3. Be sure to link to your nominees within your post.
4. Let them know that they have received this award by commenting on their blog.
5. Remember to link to the person from whom you received your award.
Here are my nominees... some of my favourite blogs!
Only ten? I
easily
could have gone on. Thank you and hugs to the bloggers who make my morning :)