So with our new(ish) house finally ours again - renovations are finished, FINALLY, after seven months of misery - we have a huge list of more things we want to do.
One item on that list is to replace the cheapo sconces in the stairwells and living room. Seriously, they're the worst sconces we've ever seen. So, we've been doing a LOT of looking at lighting stores and online to find something to replace them. The tricky part is that we both have to agree! My husband and I have somewhat different tastes in decor and furnishings, so must find something that works for both of us.
We
finally
agreed on the
Lugano sconces from Restoration Hardware
(we must have looked at thousands of sconces. Honestly.). They're pretty and classic enough for me, and manly and modern enough for him.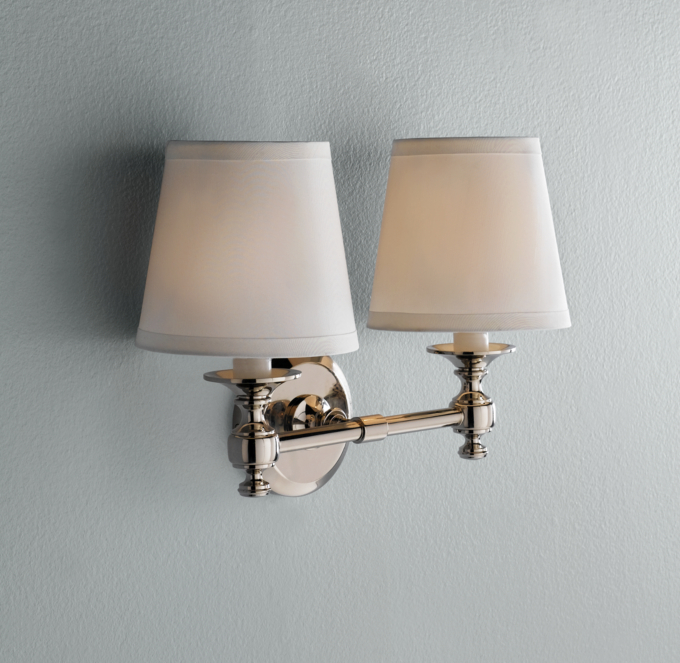 We were all set to pull the trigger and order them in at the store, when we learned from the sales associate that anything
not
stocked in the store (like towels, frames and small stuff like that) is subject to a 20% transport fee to bring it from their warehouse in California to their store.
WHAT?
I'm not talking about home delivery here, this is to ship their products
from their own warehouse to their own store
in the mall. We'd go in to pick the order up. Is that not normally just the cost of doing business? Wouldn't you think they'd simply include that cost in their prices rather than adding it at the end?
It seems to us that they are advertising prices that you simply cannot get the products for. Anything you want displayed in the store that is not available for cash and carry will automatically cost you 20% more than the advertised price.
I think that's a crappy way of doing business. We decided to keep looking, and take our business elsewhere just on principle.
What do you think?